Cleaning Services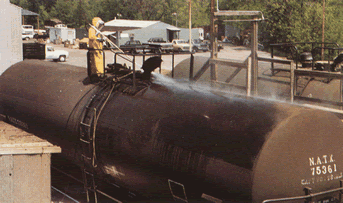 Rail Services is a Transportation Equipment Cleaning Facility. The services offered by our cleaning department include:
High Pressure Washing
Cold Wash
Hot Wash
Detergent Wash
Caustic Wash
Steam Cleaning
Hydroblasting
Caustic Circulating
Sludge and Off-Spec Heel Removals
Sanitization of Railcars and Truck Tanks for food-grade service.
All railcars and truck tanks, last containing a hazardous material, cleaned at Rail Services must be "RCRA Empty" (as defined by EPA 40 CFR Part 261.7) prior to any wastewater generating activity performed as part of the cleaning process. Rail Services is a Large Quantity Generator (LQG) of hazardous waste (EPA ID #KYD 991-276-833). Hazardous materials are removed and disposed of properly from containers not meeting the "RCRA Empty" standard prior to cleaning. Wastewaters generated at our facility are biologically treated in our wastewater pretreatment plant and discharged to a permitted POTW.