Mechanical Services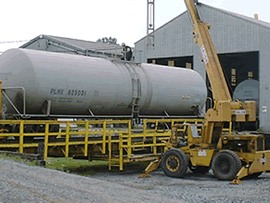 The mechanical shop at Rail Services is an AAR Class C, M-1003 Certified shop. The mechanical department is capable of a variety of services performed by highly trained and experienced personnel. Our mechanical shop holds certifications in the following:
Tank Requalification (HM201) Testing
Stub Sill Inspection
88-B2 Inspection
Valve Rebuilding and Testing
Safety Valve Testing
Hydrostatic Testing of Tanks and Coils
Tank Welding and Stress Relief
Gasket Fabrication and Installation
If your railcar is in need of repairs as well as
cleaning, Rail Services can perform these functions under one roof, thereby saving valuable time and money by eliminating the need to move cars from facility to facility.