We at Rail Services take this opportunity to introduce you to our
company. Our present owner founded the company in 1981, and our
experience has firmly established us in the cleaning and repair of rail
cars. We pride ourselves in being a "one-stop shop" for our customer's railcar needs.

Our professionalism is based on current artisanry with emphasis
placed on customer service and minimum turnaround time at competitive
prices, with safety being given equal importance.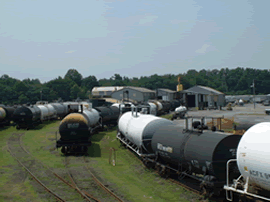 Please give our staff a call any time. We invite your questions. We
also invite you to visit our facility and see our work in progress. Your
visit would reassure you that the product being cleaned is properly
disposed of, insuring your company of no product liability.